Description
ADULT SALMON CAT FOOD
COMPLETE FOOD FOR CATS
The daily amount of this food that your cat needs depends on different factors such as weight, daily activity level, age, natural setting… For purposes of orientation, for cats with a normal daily activity level, depending on their body weight, we recommend providing them with the following daily amounts:
| WEIGHT | GR/DAY |
| --- | --- |
| 1 KG | 22 |
| 2 KG | 36 |
| 4 KG | 69 |
| 6 KG | 103 |
| 8 KG | 136 |
Metabolizable energy 3.795 Kcal/kg
Composition
Dehydrated salmon, tapioca, poultry fat (source of Ω-6 fatty acids), peas, hydrolyzed salmon protein, potato protein, yeast and yeast extract-Saccharomyces cerevisiae (source of mannanooligosaccharides – MOS and β-glucans), beet pulp, carob pod, potato protein, dehydrated whole egg, sh oil (source of Ω-3-EPA and DHA fatty acids), minerals, natural cellulose (source of insoluble ber), inulin (soluble ber of chicory, source of fructooligosaccharides – FOS), soluble dietary ber extracted from Plantago ovata, essential oils (oregano, cinnamon, cloves, thyme, rosemary, mint, green tea), yucca, hydrolyzates from crustaceans (source of glucosamine), hydrolyzates from cartilage (source of chondroitin), lyophilized melon juice concentrate (rich in superoxide dismutase – SOD).
Analytic constituents
Crude protein 32.00%, Crude fat 16.00%, Crude ber 3.70%, Crude ash 8.20%, Calcium 1.00%, Phosphorus 1.00%, Sodium 0.60%, Magnesium 0.09% Water 8.00%, EPA + DHA 0.52%, Glucosamine hydrochloride 300 mg/kg, Chondroitin sulfate 220 mg/kg.
Additives
Nutritional additives: Vitamin A 28,000 IU/kg, Vitamin D-3 1,600 IU/kg., Vitamin E 600 mg/kg, Vitamin C 300 mg/kg, Biotin 2,600 mcg/kg, L-Carnitine 120 mg/kg, Choline chloride 3,220 mg/kg, Taurine 2,000 mg/kg, Iron (ferrous sulfate monohydrate) 60 mg/kg, Iron (iron chelate of glycine hydrate) 60 mg/kg, Copper (cupric sulfate pentahydrate) 5 mg/kg, Copper (copper chelate of hydroxy analogue of methionine) 8 mg/kg, Manganese (manganous sulphate monohydrate) 12 mg/kg, Manganese (manganese chelate of hydroxy analogue of methionine) 18 mg/kg., Zinc (zinc sulphate monohydrate) 50 mg/kg, Zinc (zinc chelate of hydroxy analogue of methionine) 70 mg/kg, Iodine (potassium iodide) 3.8 mg/kg, Selenium (sodium selenite) 0.05 mg/kg, Selenium (hydroxylated analogue of selenomethionine) 0.20 mg/kg.
Technological additives: Antioxidants (Vegetable oils rich in tocopherols).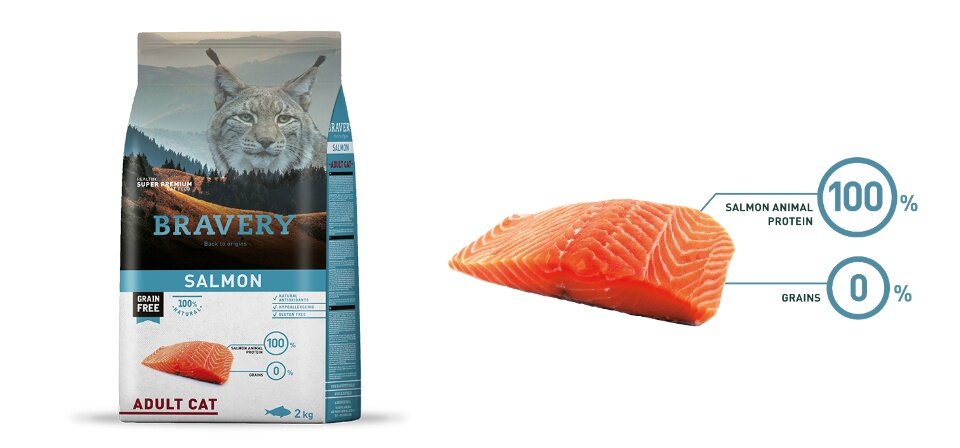 What's in the box
1 X BRAVERY CAT SALMON GRAIN FREE 2KG