Price

RM217.40

RM249.00

Brand
Origi-7
Availability
Description
Highlight
Main Ingredient: Organic Chicken, Organic Salmon
Target Age : All Age
Real meat (Salmon & organic free-run chicken)
Only use USDA certificated organic free-run chicken. Not used meat meal.
Low temperature air dry system
Fresh Salmon Meat + Prebiotics + Probiotics
Fresh salmon, oats, sweet potato, pumpkin, turmeric, and others that may help for beneficial intestinal bacteria and reduce excrement odor.
7 Free (chemical preservatives, GMO, growth hormones, artificial coloring, artificial flavoring, MSG, and meat powder)
Under 4% of crude ash
ORIGI-7 Advanced Soft Organic Dog Food Salmon
Main Ingredient: Organic Chicken, Organic Salmon
Target Age : All Age
1. Real meat (Salmon & organic free-run chicken)
Only use USDA certificated organic free-run chicken. Not used meat meal.
Over 30% fresh meat may help to increase digestion rate.
2. Organic certificated by USDA & Korea inspection (over 70% organic ingredient)
3. Low temperature air dry system
Advanced air dry system may help to improve palatability and digestion rate.
4. Fresh Salmon Meat + Prebiotics + Probiotics
Fresh salmon, oats, sweet potato, pumpkin, turmeric, and others that may help for beneficial intestinal bacteria and reduce excrement odor.
5. Turmeric, Honey, and Coconut include
6. 7 Free (chemical preservatives, GMO, growth hormones, artificial coloring, artificial flavoring, MSG, and meat powder)
7. Under 4% of crude ash
Daily Recommended Feed Rate
Weight
~ 5kg
5 ~ 10kg
10 ~ 20kg
20 ~ 30kg
Feed Rate
~ 153g
153 ~ 306g
306 ~ 613g
613 ~ 920g
Feed rate can be different depending on breeds, size, exercise rate, and pregnancy.
Ingredients
Animal Protein Premix (Organic Chicken, Organic Salmon), Organic Corn Gluten, Organic Brown Rice, Organic Barley, Chicken Oil, Vegetable Glycerin, Organic Rice, Chicken Liver, Organic Sunflower Seeds, Organic Sesame Seeds, Organic Oats, Puffed Rice, Organic Beet Pulp, Organic Flaxseed, Organic Mung Bean, Fructooligosaccharide, Organic Sunflower Seed, Coconut Powder, Turmeric, Honey, Organic Buckwheat, Organic Sweet Potatoes, Calcium Phosphate, Ascorbic Acid, Organic Carrots, Organic Pumpkin, Lysine, Methionine, Yucca Extract, Organic Pumpkin Seed, Tocopherol, Rosemary Extract
- Weight: 1.2kg (200g x 6ea), 2kg (200g x 10ea), 6kg (400g x 15ea)
※ Above ingredients rate can be changed depending on factory's circumstance.
Guaranteed Analysis
| | |
| --- | --- |
| Crude Protein (Min) | 25.0% |
| Crude Fat (Min) | 10.0% |
| Calcium (Min) | 0.7% |
| Phosphorus (Min) | 0.6% |
| Crude Fiber (Max) | 4.0% |
| Crude Ash (Max) | 4.0% |
| Moisture (Max) | 23.0% |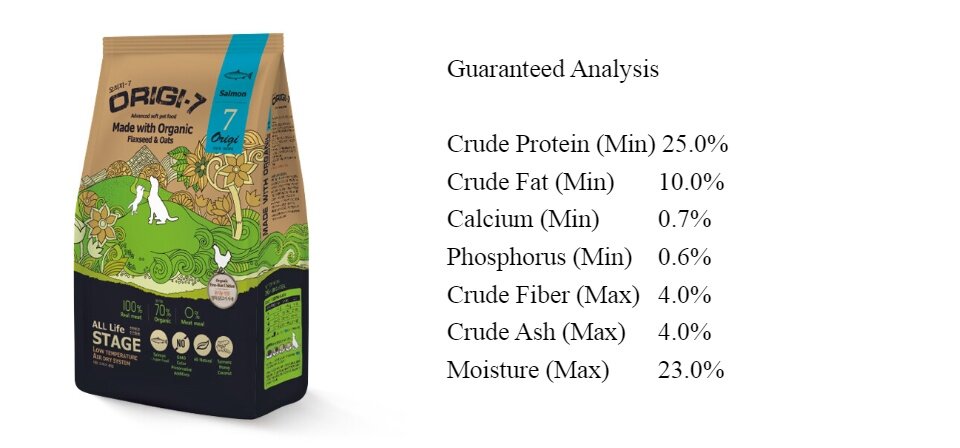 What's in the box
1 X ORIGI-7 Advanced Soft Organic Dog Food Salmon 6KG (400G x 15EA)